Top 13 Online Marketing Platforms to Improve Your Digital Marketing
As we wrote in What Is Digital Marketing? digital marketing uses strategy, planning, and a…
As we wrote in What Is Digital Marketing? digital marketing uses strategy, planning, and a keen understanding of your market to create targeted digital media that drive awareness and education for your brand, product/services, and ultimately sales. Nowadays, most businesses engage in digital marketing. Indeed, Global Industry Analysts Inc. (GIA) predicts the worldwide digital advertising and marketing market will reach $786.2 billion by 2026. As a result, we have seen an influx of online marketing platforms and tools develop to assist businesses with their digital and online marketing. 
The terms digital marketing, internet marketing, and online marketing are, to a large extent, interchangeable. Technically, digital marketing refers to any marketing on electronic devices, with online marketing and internet marketing (which are by definition digital) focusing solely on content delivered via the internet. However, many of the tools and platforms available to assist marketers will help with all these types of marketing. In reality, they assist multiple types of modern marketing, including:
Social media marketing

Influencer marketing

Email marketing

Content marketing

Search engine optimization (SEO) marketing

Pay-per-click (PPC)

Affiliate marketing

Mobile marketing
With so much variety in digital and marketing, we have selected a variety of online marketing platforms covering a range of these marketing types.
---
Top Online Marketing Platforms to Improve Your Digital Marketing:
---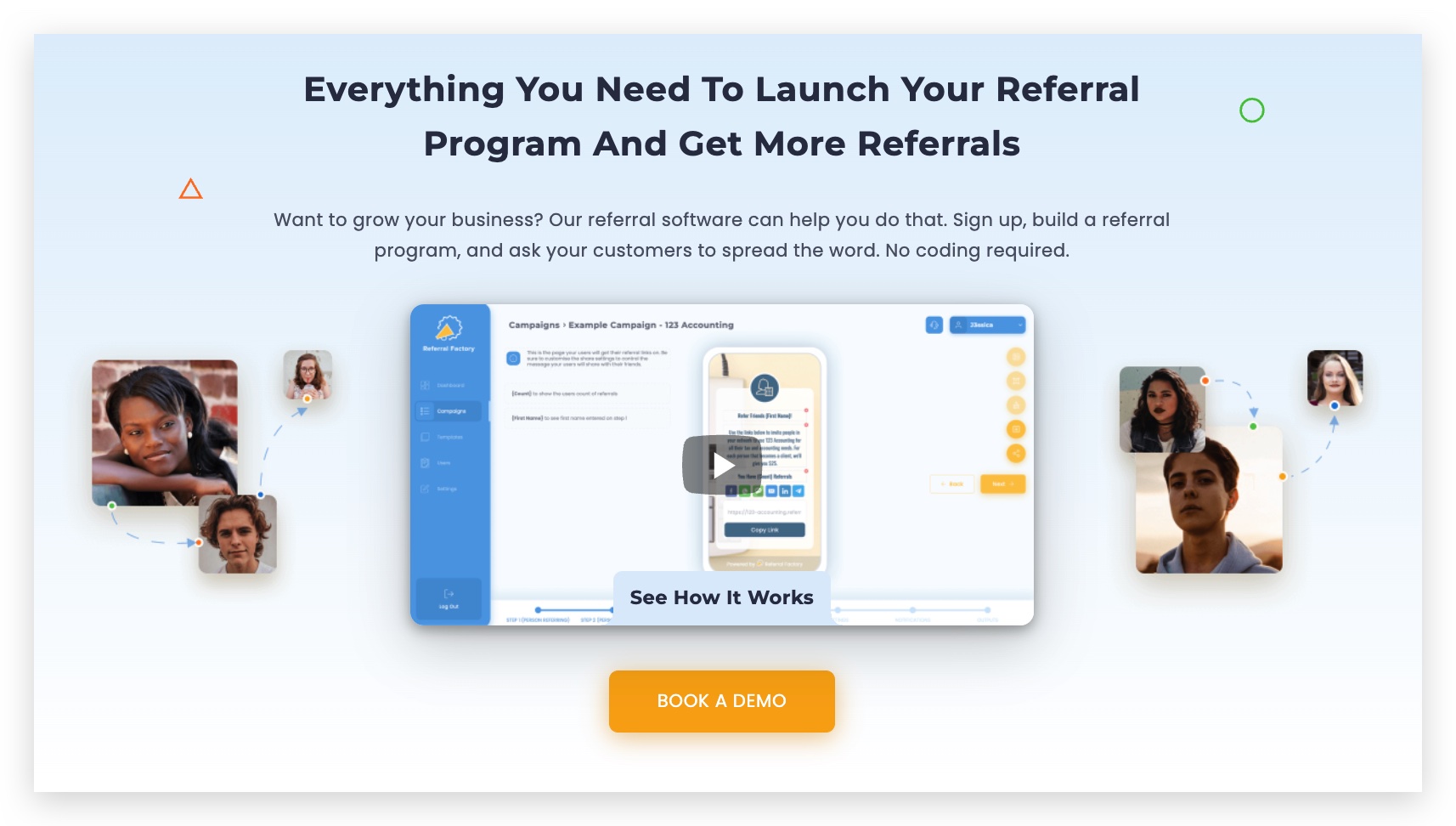 Referral Factory specializes in helping brands wanting to devote a portion of their digital marketing spend to referral marketing. Although you do much of the work, clients on the Enterprise plan receive access to a dedicated referral marketing expert. 
You can manage your referral program from many existing business tools you may use, including HubSpot, Shopify, Salesforce, Intercom, Zapier, and more.
Referral Factory has created a collection of over 1000 templates you can use. These cover a range of industries and business types and even various referral marketing models, so most firms will find a template to meet their needs. However, if you prove to be the exception, you can build a program from scratch that better meets your needs.
---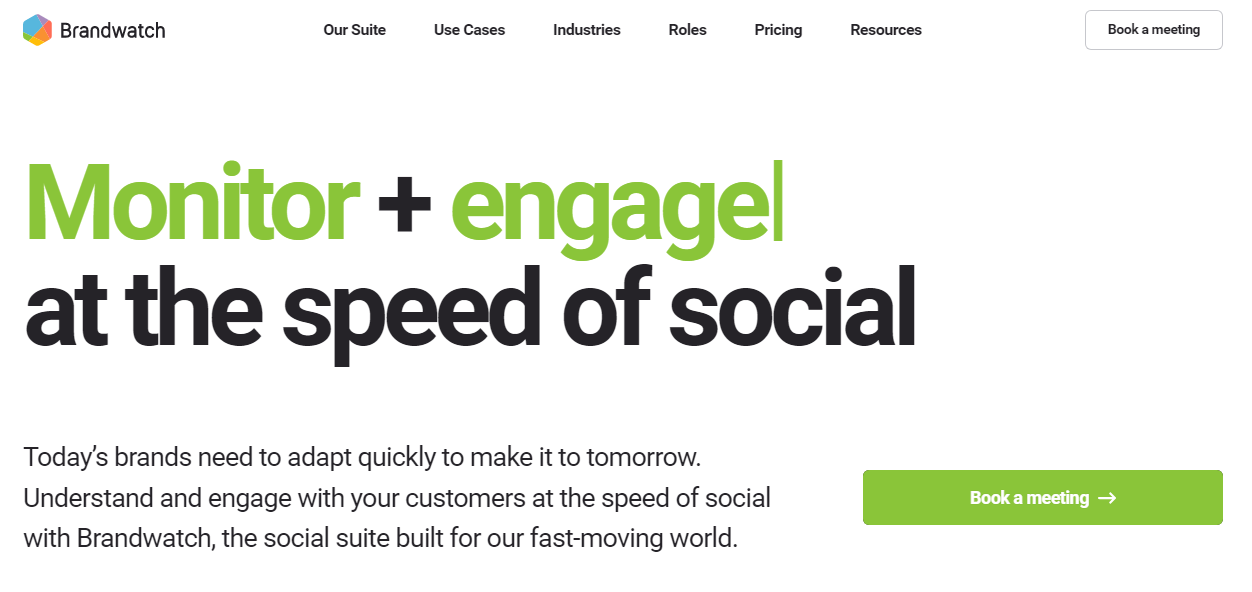 You might have noticed regular mention of Falcon.io when browsing through the Influencer Marketing Hub. However, the company has recently rebranded and is now Brandwatch. 
Brandwatch offers multiple digital marketing services to brands, particularly concerning content and social media marketing. It provides everything you need to build your following and grow your brand across your social channels.
Brandwatch's approach to social media marketing is to break it down into what matters most. Then, it gives social media professionals access to structured features that help them listen, engage, measure, and publish content that makes a difference.
Brandwatch cooperates well with agencies to smooth your collaborative processes if you want an agency to take charge of some parts of your online marketing. You can control all access and set permissions while using the platform yourself for the types of marketing you wish to keep in-house.
---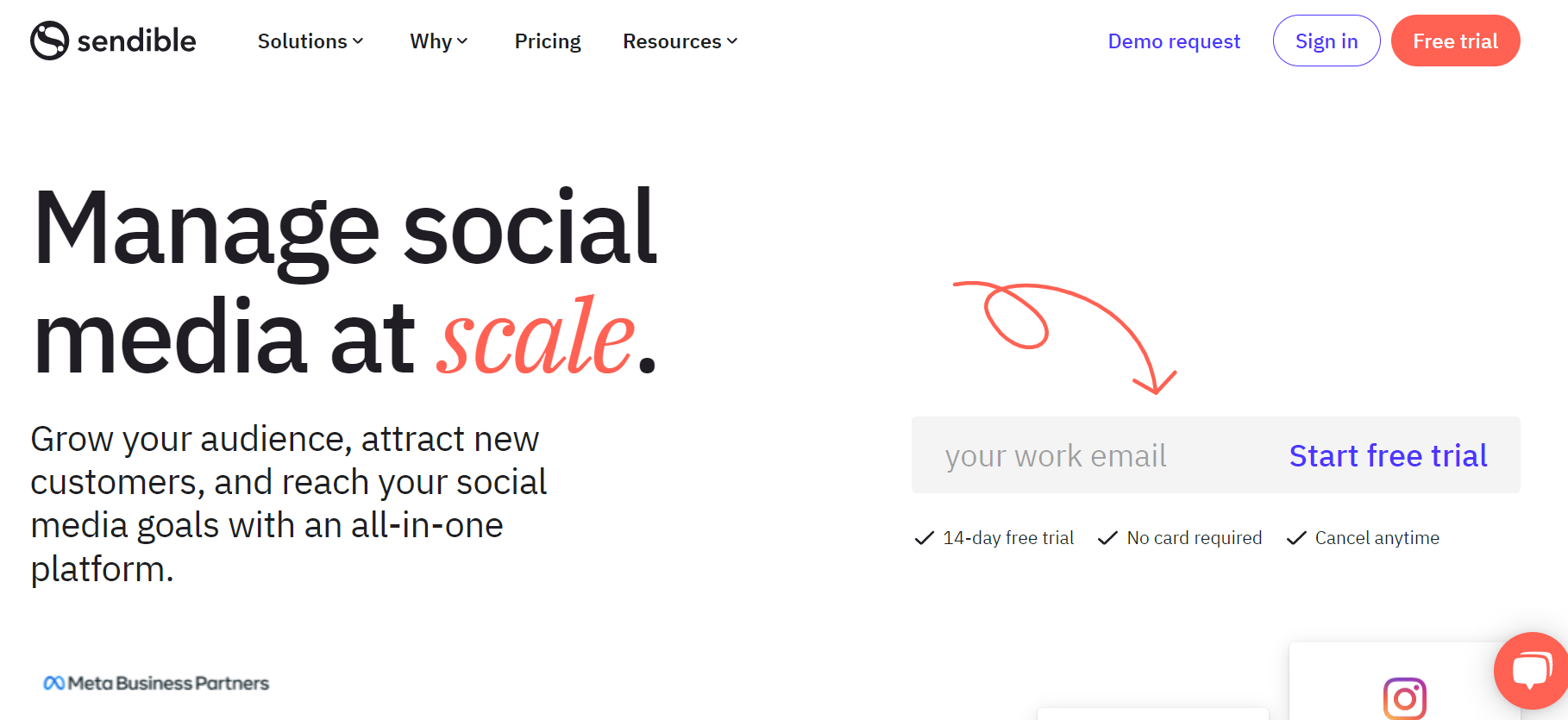 Sendible helps you manage your social media at scale, whether it be Facebook, Twitter, Instagram, YouTube, LinkedIn, or Google My Business. You can customize and preview posts for each platform, keep images pixel-perfect with Sendible's built-in editor, or design new graphics with Canva.
Sendible places much emphasis on helping you streamline your social media management workflow. It includes valuable features like post preview, content suggestions, auto-post RSS feeds, bulk scheduling, smart queues, and a content library.
You will find powerful publishing features that enable you to create social media posts how you prefer. You can schedule tailored posts individually, via queues, or in bulk and oversee them in the calendar view. Add seasonal promotions, campaign ideas, and holidays as draft posts on your calendar to pencil in critical dates.
---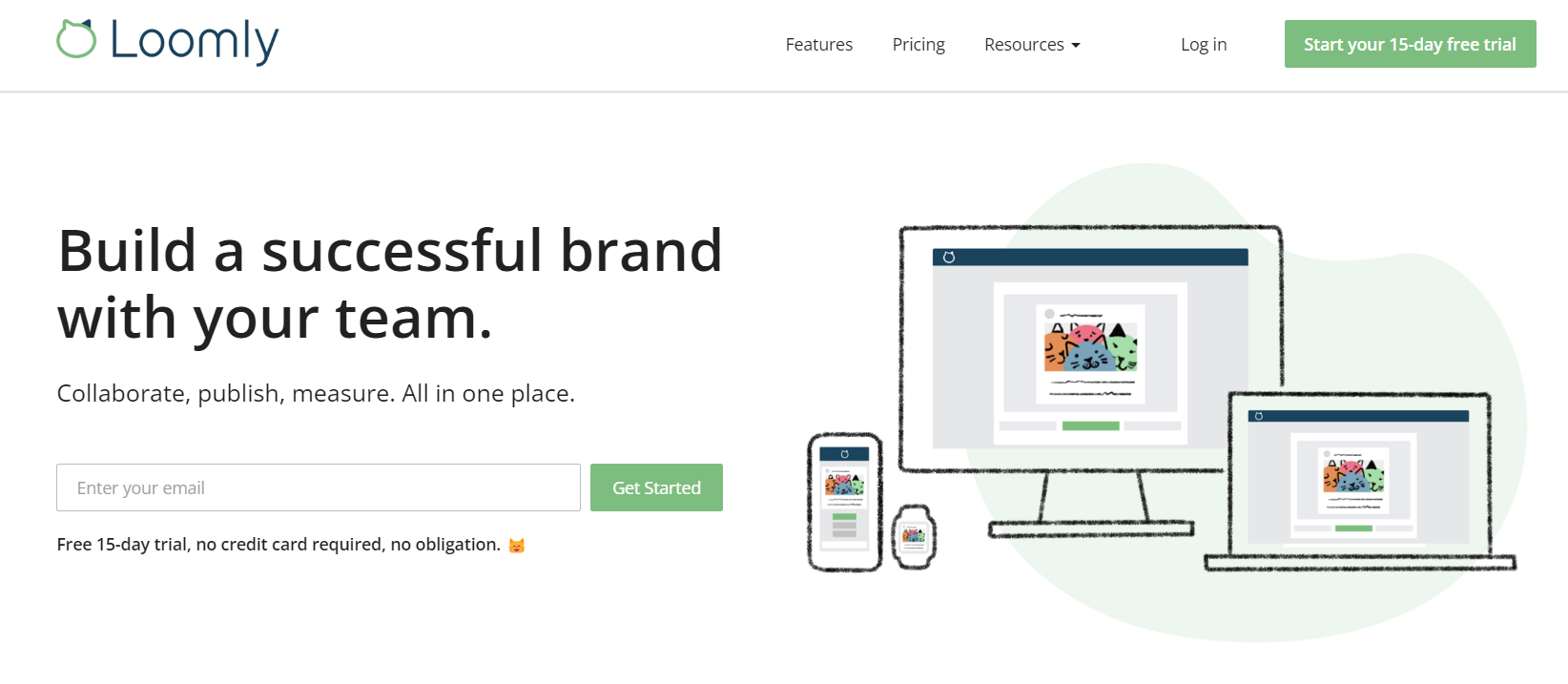 Loomly focuses on social media marketing and scheduling. Using Loomly makes brand and content management easy for marketing teams. It has all you need to collaborate efficiently on building a successful brand. You can manage your social media content — organic posts and ads — from one platform. And they notify you every time someone in your team updates or comments on a piece of content with email, push, Slack, and Microsoft Teams notifications. Loomly even gives you post ideas based on trending topics, RSS feeds, date-related events, and social media best practices. And it provides a central, intuitive library to store, organize and use your assets.
---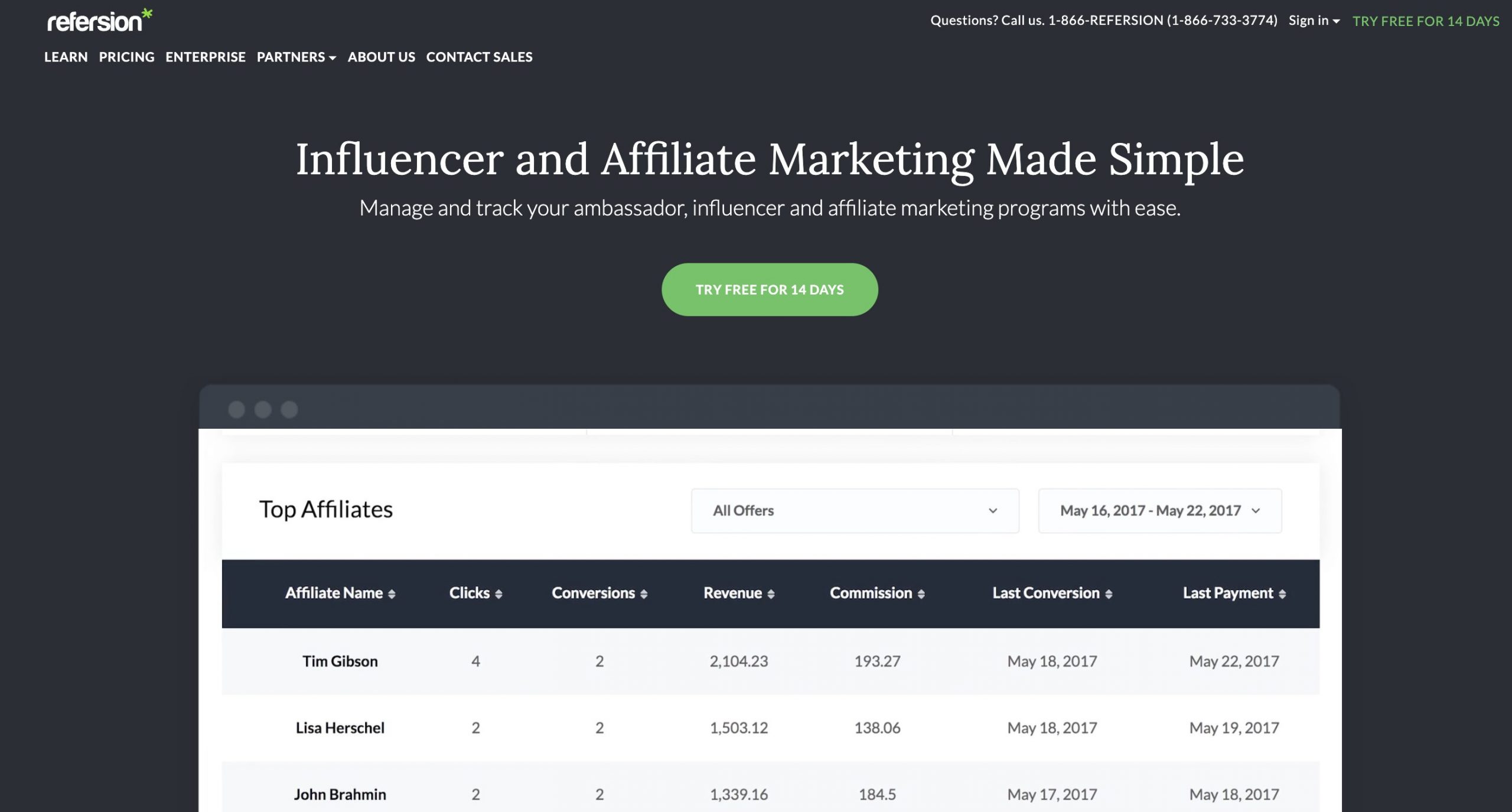 You can use Refersion to oversee and track your ambassador, influencer, and affiliate marketing programs. Easily onboard unlimited affiliates and manage their performance with built-in reporting for all campaigns across your brand ambassador, influencer, and affiliate programs. Refersion connects with eCommerce platforms and popular marketing apps. Get webhooks, developer APIs, and certified Shopify Plus features for larger programs.
Grow your eCommerce sales with Refersion's Affiliate Recruiting Solutions and connect with the most compatible and profitable affiliate partners. Recruit premium content publishers to build powerful affiliate relationships that drive new revenue to grow your eCommerce business.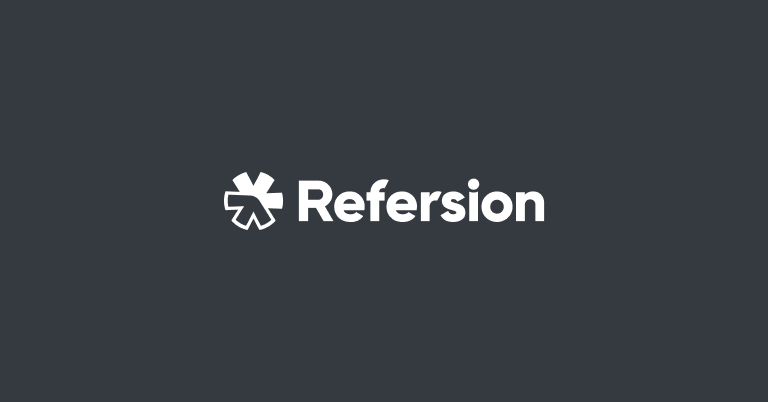 Key Features: Automated Recruiting, Content Library, E-commerce Tools, Product/Gifting Tools, Forms and Compliance,
---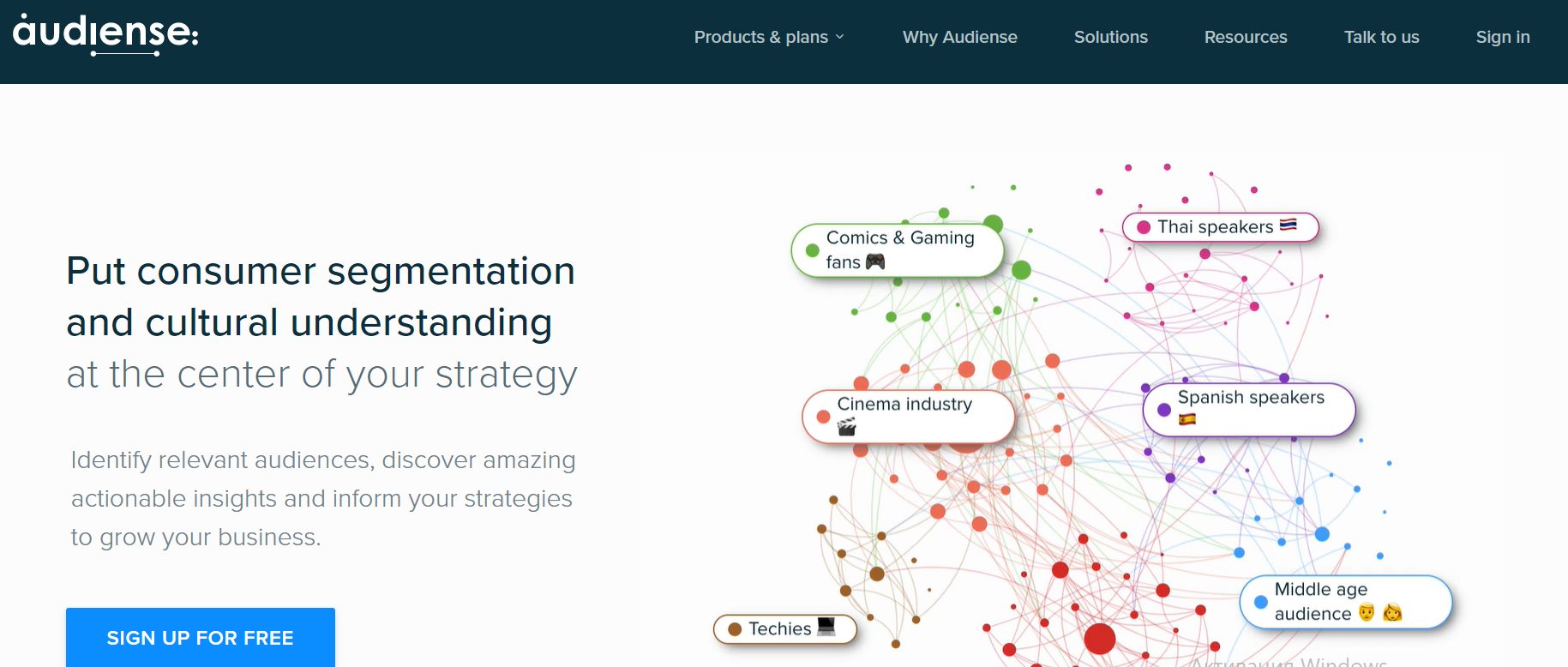 Audiense is a tool for gaining insights into audiences and finding the ones you're targeting for marketing. You can use it to obtain a complete picture of who you're trying to reach with your campaigns. These insights are valuable for pretty much any kind of digital marketing.
Audiense allows unique and in-depth audience segmentation. Transform how you make decisions and discover new opportunities by understanding the audiences that really matter. 
Audiense has two main products: Audiense Insights, to understand your audiences, and Audiense Contact, an in-depth Twitter marketing platform. Even if you don't use Twitter, you can use Audiense Insights to understand and activate your audiences. It looks at all your social data to help you understand the people you're reaching. Audiense Insights applies machine learning to instantly understand who makes up your target audience, by analyzing connections between the people that shape it.
If you do use Twitter, Audiense Contact boasts the world's richest audience insights to build and explore communities, identify audiences and engage directly on Twitter at scale.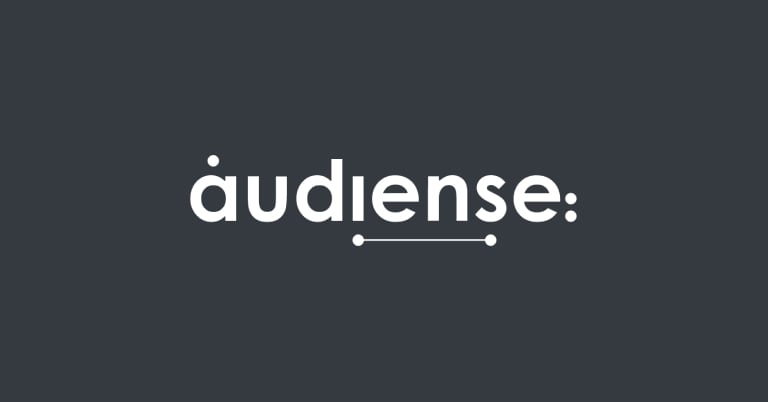 Key Features: Search/Discovery, Audience Analysis, Social Listening, Competitor Research,
Channels: Instagram, Facebook, YouTube, TikTok
---

Brand24 is a "media monitoring tool with powerful analytics." You can use it to monitor your brand's performance on a wide range of social media channels, including Facebook, Instagram, Twitter, TikTok, YouTube, and Twitch. It also examines websites, blogs, news sites, reviews sites, video descriptions, and podcasts. It offers sentiment analysis, hashtag monitoring, and much more. 
Brand24 is a powerful social media analytics platform. The tool tracks keywords across major social media platforms, calculating how you're performing. It calculates social media reach, your share of voice, and hashtag performance. Its AI-driven sentiment analysis can help protect your brand's reputation, find marketing insights, and improve customer service.
It offers four tiers of pricing, designed to cater to businesses of all sizes, so you won't overpay for what you get. 
---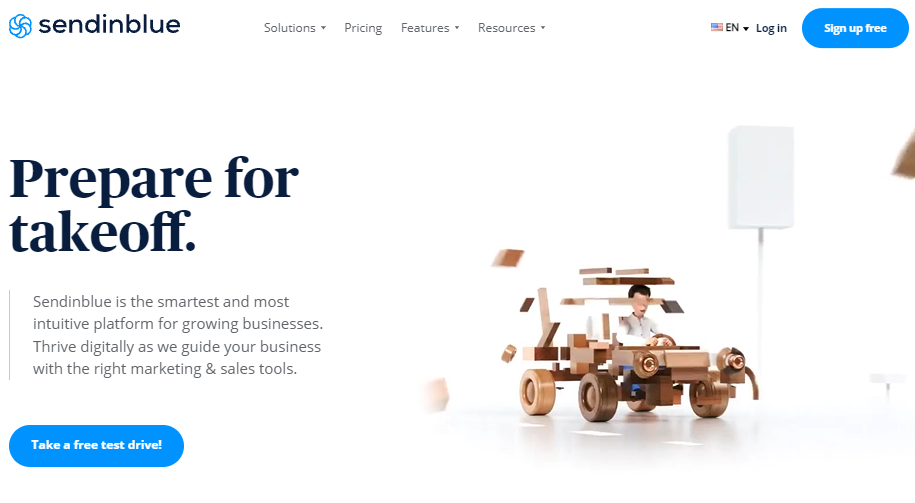 Sendinblue is a flexible and versatile online marketing platform. You can use it to assist with email marketing, SMS marketing, chat, and even Facebook ads. It includes a CRM that stores all customer information, including your team's notes and tasks about engagements. 
One handy feature is Sendinblue's shared inbox that shows all customer emails in one place, making it easy to assign emails to the correct team members. In addition, it provides a complete history of engagements with leads and prospects via email.
As well as traditional email marketing, you can use Sendinblue to design branded transactional emails that integrate with eCommerce plugins or are set up with API, SMTP Relay, or marketing automation.

Sendinblue is the quintessential business marketing platform. It's more than email and SMS marketing. It offers chat and CRM, and bundles these critical tools alongside marketing automation, persona…
---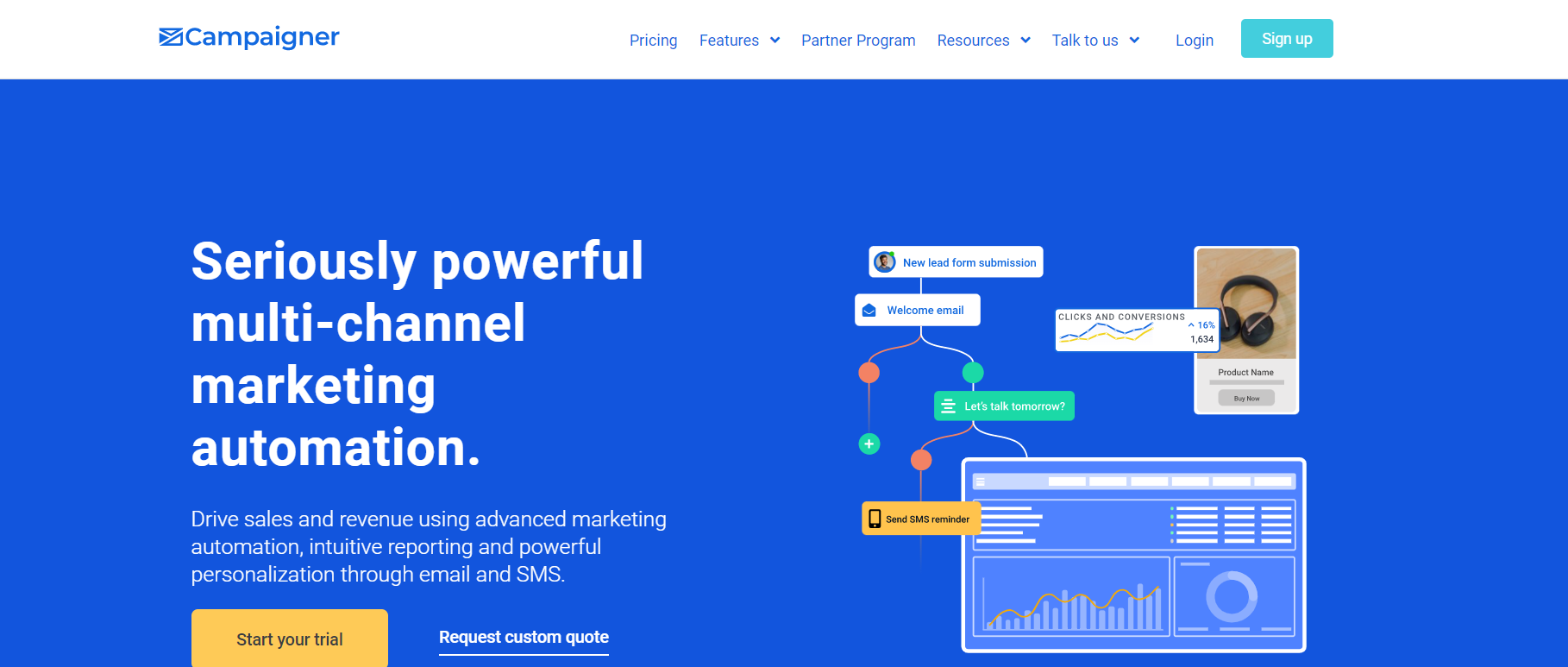 Campaigner offers advanced marketing automation, intuitive reporting, and powerful personalization through email and SMS. They also provide an eCommerce-targeted version that integrates with Shopify and Magento. 
Campaigner includes tools to assist at all funnel stages, from attracting and capturing email addresses through automating and nurturing leads to converting and retaining customers. In addition, you can build complex automatic emails and SMS messages based on activity triggers and subscriber engagements.
Suppose you're worried about your emails ending up in spam folders. In that case, Campaigner includes Reputation Defender, which keeps your contacts clean, so you can avoid sending to addresses that could potentially harm your reputation as a sender.
You can use conditional content and content blocks to personalize your email communications based on your subscribers' interests. In addition, dynamic subject lines allow you to customize your subject line by including information you have collected from subscribers, more than merely their names.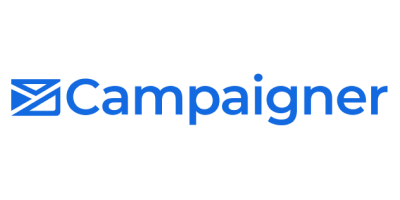 Campaigner offers advanced marketing automation, intuitive reporting, and powerful personalization through email and SMS. In addition, you can select an eCommerce-targeted version that integrates with…
---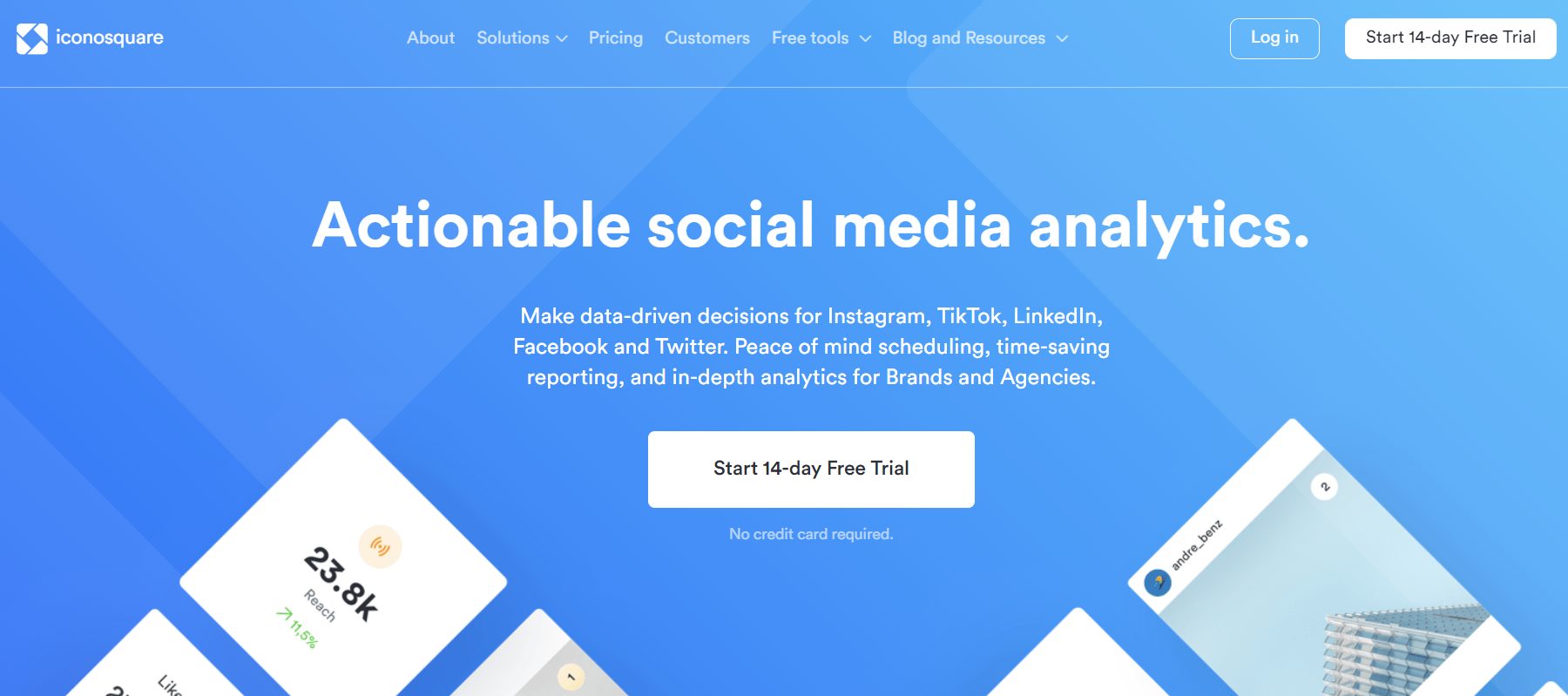 Iconosquare specializes in offering actionable social media analytics so you can make data-driven decisions for Instagram, TikTok, LinkedIn, Facebook, and Twitter. It gives you a customized dashboard that quickly visualizes the most important metrics, and you can schedule reports to help you stay on top of your game. You can even receive analytics for promoted Instagram content on selected plans.
However, you can use Iconosquare for more than just social analytics. It includes a powerful scheduler so you can publish your content automatically. 
In addition, you can keep a close eye on selected competitors and understand how your performance stacks up with the rest of your industry across multiple metrics.
---

Omnisend is an all-in-one email marketing automation platform targeting high-growth eCommerce businesses. You can integrate channels into your automation workflows, send personalized messages, and create your brand as you want it to be. 
As its name suggests, Omnisend provides tools to help you with more than just email. For example, you can combine email with SMS and more channels from a centralized platform. In addition, it includes a library of templates that make it easy to create professional, stunning emails. You can even customize their templates to suit your brand. 
The basic free plan allows you to run email campaigns, sign-up forms, boxes and pop-ups, and reports. With the Standard Plan, you can do everything in the free plan and receive unlimited web push notifications, and more email sends. Both these plans also include limited SMS sends, and you can purchase additional SMS credits if your needs are more significant. The Pro plan gives you unlimited email sends, web push notifications, and extra credits for SMS sends. 

Omnisend is an all-in-one email marketing automation platform. It particularly targets high-growth eCommerce businesses. You can integrate channels into your automation workflows, send personalized me…
---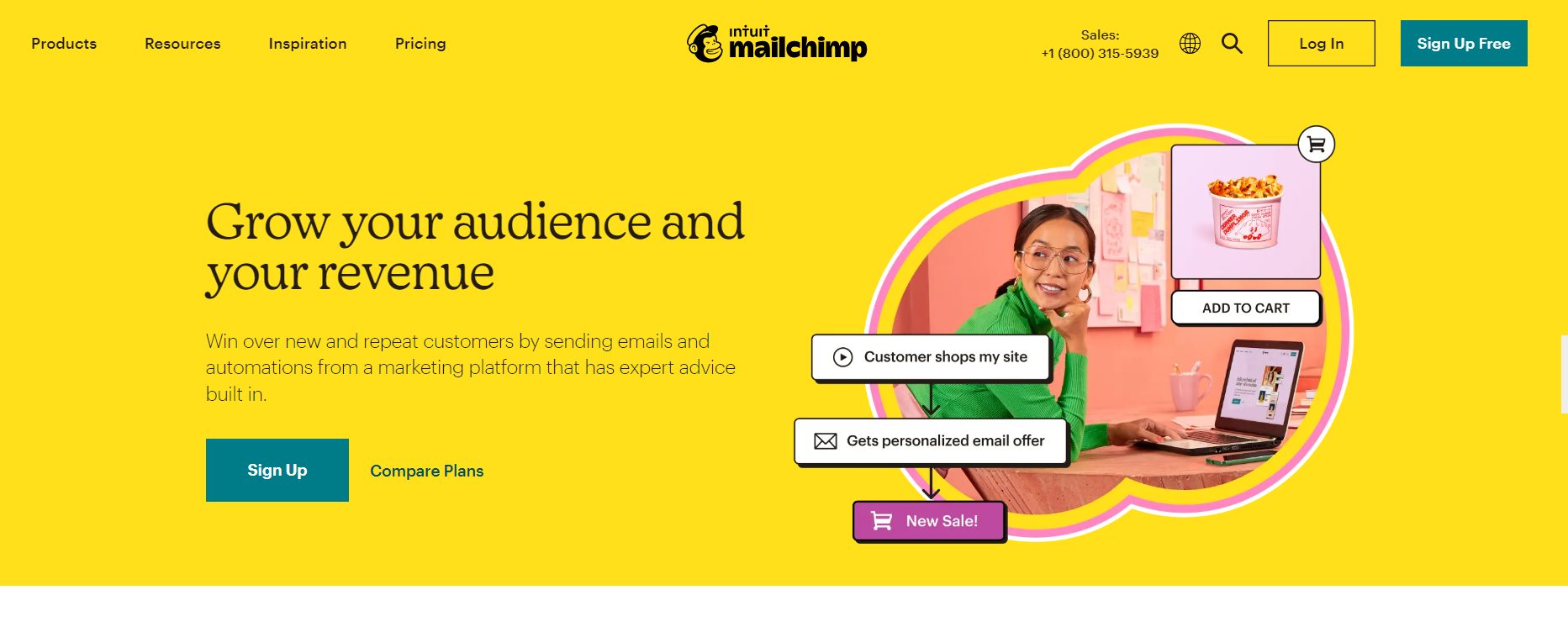 Marketers still love email marketing because it works. Mailchimp has been helping marketers since 2001 and has  62% of its market with more than 12 million active users. It has branched out from being a strict email solution to becoming a full-featured online marketing platform. 
While email remains MailChimp's signature feature, you can also use it to assist with designing landing pages, creating digital ads, social media marketing, preparing and sending postcards, and much more. In addition, you can use their social calendar to review past campaigns and preview future posts.
Mailchimp incorporates various marketing tools to build your audience, including a marketing CRM, an audience dashboard, segmentation, personalization, and predicted demographics. Mailchimp includes a Content Studio with campaign templates, dynamic content, a subject line helper, and a creative assistant if you want assistance creating content. Mailchimp also excels with automation, focusing on customer journeys, pre-built automations, send time optimization, and transactional email.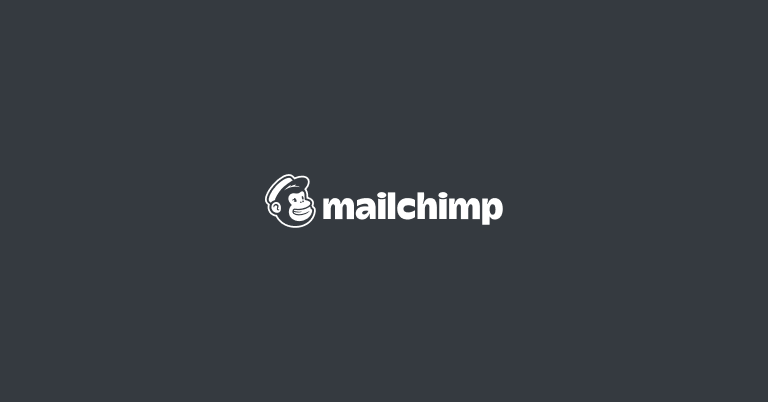 Key Features: CRM, Email Marketing,
---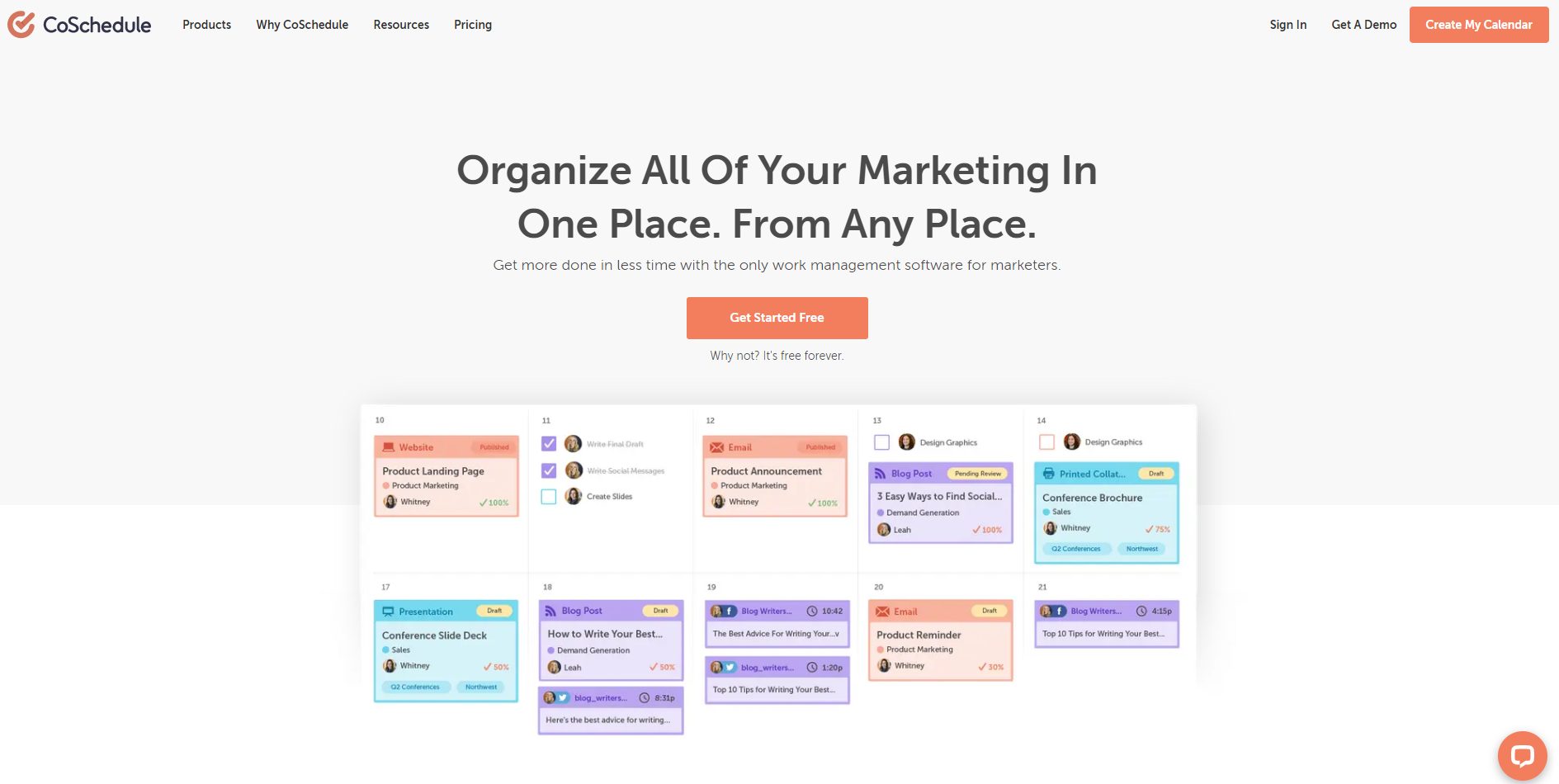 You can organize all your marketing in one place with marketing calendar software from CoSchedule. CoSchedule offers a "forever-free" Marketing Calendar to see, schedule, and share all your marketing if you just want a marketing calendar. However, if your needs are more significant, you might opt for their Marketing Calendar Pro, an advanced marketing calendar with limitless publishing. 
Larger businesses could consider the CoSchedule Marketing Suite, a family of agile marketing products that helps you coordinate your process, projects, and teams. Their marketing suite consists of four components: Calendar Organizer, Content Organizer, Work Organizer, and Asset Organizer.
The Calendar Organizer is a "souped up" version of CoSchedule's free Marketing Calendar. You can use it to see every project on a unified calendar of record. The Content Organizer lets you optimize your editorial process to save time and deliver more; centralize publishing and promotion by connecting your tools. You can use the Work Organizer to implement consistent, defined workflows to speed up production and identify how urgent changes impact proactively planned work. Finally, the Asset Organizer helps you catalog and maintain control of your brand's assets.
---